Dehydration is a method of preserving food by removing moisture from it. This can be done through a variety of techniques, but using a dehydrator is a convenient and easy way to do it at home.
Dehydrating foods not only extends their shelf life, but it also concentrates their flavors and nutrients, making them more intense and delicious.
There are many benefits to incorporating dehydration into your cooking routine. In addition to the extended shelf life, dehydrated foods are also lightweight and easy to transport, making them perfect for hikers, campers, and travelers.
Dehydrated foods are also typically lower in calories, making them a great option for anyone looking to eat a bit healthier!
If you're new to dehydration, don't worry! It's a simple process that just takes a bit of time and patience. Here are some common steps found in dehydrator recipes:
Prep your food. This can include washing and slicing fruits and vegetables, marinating meats, or blanching certain items.

Arrange your food on the dehydrator trays. Make sure to leave enough space between the items so that air can circulate and the food can dehydrate evenly.

Set the temperature and time. Different foods will require different temperature and time settings, so be sure to consult a recipe or guide for specific instructions.

Check on your food periodically. This will allow you to rotate the trays and ensure that everything is dehydrating evenly.

Store your dehydrated foods properly. Once your food is fully dehydrated, be sure to store it in an airtight container in a cool, dark place to maximize its shelf life.
And that's it! With these steps, you'll be well on your way to creating delicious and healthy dehydrated foods.
Now let's take a look at the 58 Easy Dehydrator Recipes below – they are categorized by type of food. You'll find vegetables, fruits, snacks, meat & proteins, grains, nuts & seeds, fruit leather, and spices.
If you like this post, check out some of these:
– 28 Easy Fermentation Recipes
– Introduction To At-Home Fermenting
– The Everyman Guide To Cooking Dried Beans
Vegetables
Fruits and vegetables are the easiest foods to dehydrate as they usually require little to no prep work. If desired, you can certainly season or alter them in some way, however it's not necessary to properly preserve them.
This list of dehydrator recipes has both plain and flavored vegetables – use them to replace your processed chip and snack products!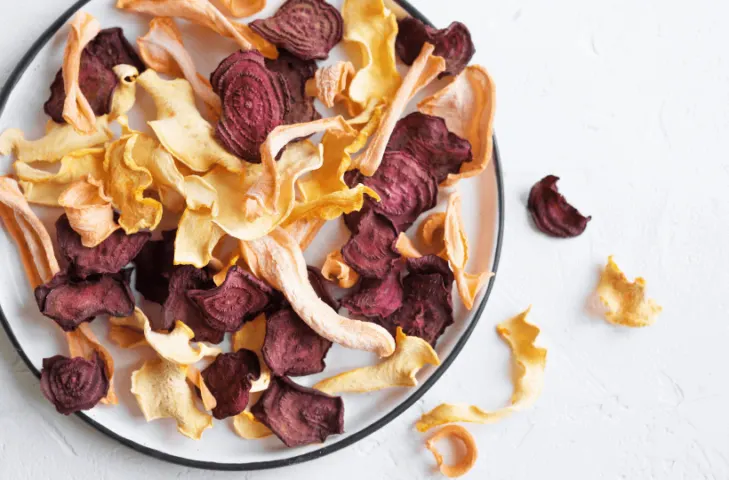 1. Sweet Potato Chips
These baked sweet potato chips are crunchy, addictive, and made with only three simple ingredients. Skip the store-bought chips and make these instead! Get the recipe here.
2. Snap Pea Chips
Have you ever wanted to make your own snap pea chips and save money? Well, it's quite an easy recipe. Just season to your liking and pop in the oven or dehydrator. All it takes is 3 ingredients! Get the recipe here.
3. Dehydrated Carrots
Dried carrots are great to add to soups and stews, and take up a lot less space than fresh or canned carrots. Plus, they can be stored for a year or so as long as they are free from moisture. Get the recipe here.
4. Salt and Vinegar Zucchini Chips
These Easy Crispy Salt and Vinegar Zucchini Chips are gluten-free, grain-free, keto, and low carb too! You can make them in a dehydrator, oven, or air fryer! Get the recipe here.
5. Spicy Buffalo Cauliflower Popcorn
This is the perfect snack to bring to school or work, on a road trip or just to have laying around the house to munch on. The flavor of this spicy buffalo sauce has a sweet component from the dates and a nice spicy kick from the cayenne. This is definitely one of my favorite dehydrator recipes! Get the recipe here.
6. Dehydrated Caramelized Onions
Want a way to make dehydrating onions less smelly? Want a great depth of flavor in the onion powder you create? You can dehydrate caramelized onions and make caramelized onion powder. It tastes great and is so much better than storebought! Get the recipe here.
7. Sun-Dried Tomatoes
If you love sundried tomatoes but hate paying high prices to buy a few ounces in the grocery store, you'll be delighted to know that they're a breeze to make at home. Get the recipe here.
8. Dehydrated Cauliflower Popcorn
This recipe is an addictive, healthy snack seasoned with flavorful spices that you won't be able to stop enjoying! Get the recipe here.
9. Dehydrated Raw Onions
It is easy to dehydrate onions so they last longer for food storage. Turn your onions into dehydrated onion flakes, minced dried onions, and onion powder. Get the recipe here.
10. Salt & Vinegar Cucumber Chips
Easy-to-make baked salt and vinegar baked cucumber chips are a healthy low-carb snack. And, they are low in calories which makes them almost guilt-free! Get the recipe here.
11. Dehydrated Pickle Chips
Do you love pickles (or even pickle juice) and hate carrying them in your lunch? Dehydrated pickles are the answer but be warned. They are for serious pickle lovers ONLY! Get the recipe here.
12. Dried Okra
Are you growing okra in your garden this year and looking for a way to preserve it? Learn how to dehydrate okra so that your dried okra lasts all year long. Get the recipe here.
13. Dehydrated Jalapeno Peppers
Learn how to dehydrate jalapenos to preserve your harvest at the height of freshness! This easy preserving method takes the guesswork of storing your jalapeno or hot pepper harvest. Use your dehydrated peppers as is or grind them into a powder. Get the recipe here.
Fruits
14. Chewy Dried Bananas
These chewy dried bananas are a great healthy snack and dehydrating bananas couldn't be easier. Here's how to dry bananas, transforming brown bananas into a sweet treat for your pantry or even your emergency supplies. Get the recipe here.
15. Dehydrated Blueberries
Blueberries are such an easy fruit to work with. Unlike strawberries, you do not have to hull them and unlike stone fruits, apples or pears there is no pitting or coring involved. Get the recipe here.
16. Crispy Orange Chips
Dehydrated orange chips have many uses as a garnish, to scent homemade cleaners, or for decoration. Get the recipe here.
17. Crispy Caramel Green Apple Chips
A thin coat of caramel is baked right into the apple giving the chip a hint of candy sweetness. Get the recipe here.
18. Candy Pear Slices
Because of their natural sweetness, dehydrating pears makes them taste like pear candy – without added sugar. Find out how to prevent browning (without artificial preservatives) and keep them yummy in storage. Get the recipe here.
19. Homemade Prunes
Learn how to dry plums that definitely DO NOT taste or feel like typical store-bought prunes. Our family can't get enough of these chewy-tart delicious snacks – and they are healthy for bones, too! Get the recipe here.
20. Dried Mangoes
Whether you like mangos blended, fresh, sliced, canned, or dehydrated, they will find a way to satisfy you. And here's a super easy way to create your own dried mango! Get the recipe here.
21. Homemade Raisins
Did you know you can make your own raisins at home? Here's how to use a dehydrator to turn grapes into this wholesome snack. Get the recipe here.
22. Cantaloupe Chips
This easy recipe shows you how to make cantaloupe chips with a dehydrator. These naturally sweet chips are such a healthy snack! Get the recipe here.
23. Dried Cranberries
Dried cranberries, aka dehydrated cranberries, are a fantastic way to preserve fresh whole cranberries. Get the recipe here.
24. Dehydrated Lemons
During the winter, when lemons are in season, spend a little time making dried lemon slices, zest, and powder to use throughout the year. Get the recipe here.
25. Watermelon Candy
Do you have more watermelon than you can deal with? Learn how to make watermelon candy. This easy DIY food storage recipe to dehydrate watermelon will make your day. Get the recipe here.
26. Dehydrated Kiwi Chips
If you've never tried dehydrated kiwi chips, you should. These vibrantly colored little discs taste like sweet-and-sour candy and are an extremely healthy snack. Get the recipe here.
Snacks
Although fruits and veggies can be snacks, the dehydrator recipes on this list are a little more substantial and intentional on the "snackage" meter. These are actual recipes that will need some form of mixing, shaping, or cutting before they make it to the dehydrator.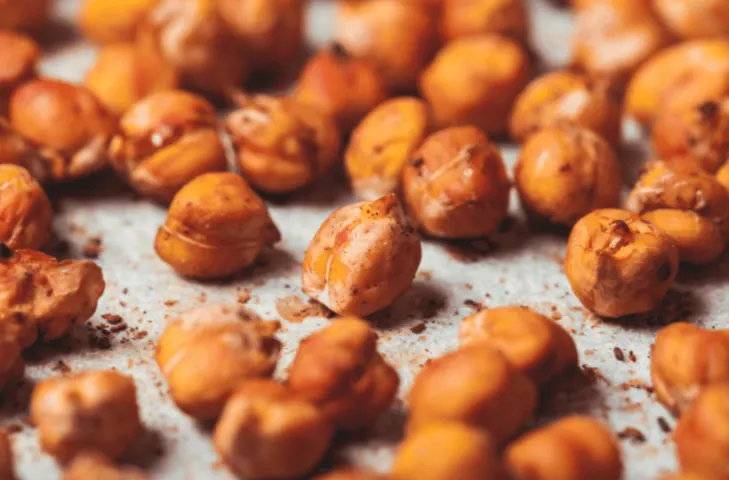 27. Crispy Sriracha Chickpeas
Chickpeas and sriracha taste amazing together. Try it for yourself and you'll never go back to any other flavor. Get the recipe here.
28. Apricot Coconut Dehydrator Cookies
Sweetened with dried fruit, and full of protein from nutbutter and fiber from coconut, these little cookies pack a nutrient dense punch. They're perfect for lunch boxes, afternoon snacks, and satisfying a sugar craving any time. Get the recipe here.
29. Chocolate Chia Granola
This easy and yummy recipe goes great on yogurt, as cereal or just on its own as a snack. Get the recipe here.
30. Crispy Parmesan Tomato Chips
If you like crunchy and salty snacks, you'll enjoy getting your fix on this healthier option than potato chips. Tomato and parmesan is just too classic to go wrong. Get the recipe here.
31. Everything Bagel Flax Crackers
These Everything Bagel Flax Crackers may not satisfy your bagel craving, but they may satisfy your everything seasoning craving! Get the recipe here.
32. Raw Dehydrated Corn Chips
These crunchy corn chips are perfect for dipping and sharing. Get the recipe here.
Meats & Proteins
Jerky is where it's at when it comes to drying meat. There's not much else you can make with it in the dehydrator, but you can make jerky out of almost any type of protein.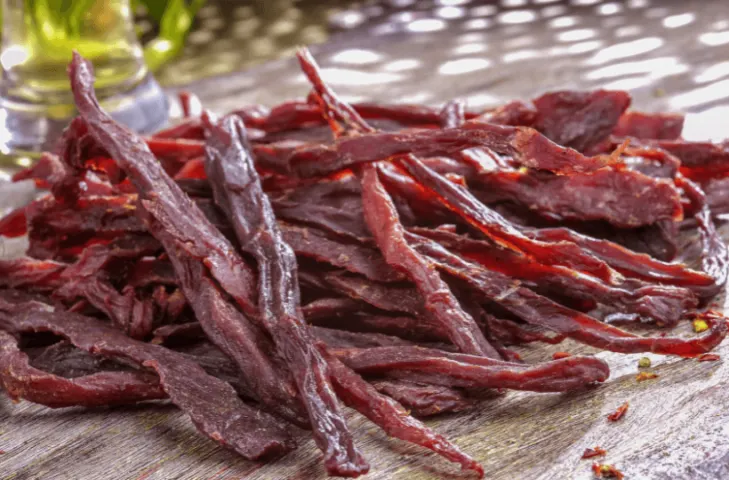 33. Salmon Jerky
This salmon jerky recipe is perfect for those looking for an unusual, delicious snack. Get the recipe here.
34. Beef Jerky
Beef jerky is one of the healthiest snacks you can stock at home for a long time. You can store it in an airtight container for months and even years as the beef slices are dried for longer-term preservation. Get the recipe here.
35. Tofu Jerky
Vegan Tofu Jerky is an easy, high-protein snack to make in your dehydrator. This recipe, with thinly sliced tofu pieces coated in smoked paprika, cumin, and hot pepper, is simply irresistible. It's sure to make a tofu-lover out of anyone! Get the recipe here.
36. Lamb Jerky
This lamb jerky is seasoned with oregano, soy sauce, worcestershire, garlic and onion, a great alternative to beef and perfect for healthy snacking. Get the recipe here.
37. Venison Jerky
This is an easy venison jerky recipe that can be used for other types of meat as well. It's the perfect road trip snack, full of meaty flavor. Get the recipe here.
38. Savory Eggplant Jerky
Savory Eggplant Jerky is a great way to enjoy eggplant while snacking on something that is as satisfying as beef jerky. Get the recipe here.
39. Chicken Jerky
You hear about beef jerky and turkey jerky, but what about chicken jerky?! It tastes AMAZING, but is not as commonly found or made as its counterparts. Get the recipe here.
40. Teriyaki Mushroom Jerky
Make your own homemade, vegan and gluten free, teriyaki mushroom jerky. This delicious snack has a toothsome texture like you would expect from jerky made out of meat. Get the recipe here.
41. Seasoned Mushroom Chips
Sometimes you just need something crunchy and savory. It's tempting to reach for tortilla or potato chips, but with this recipe you'll never desire to again! Here we quickly slice mushrooms, toss them with seasonings, and then dehydrate them to crispy crunchy perfection. Get the recipe here.
Fruit Leather
Do you remember fruit roll-ups? I must admit, I was more of a gushers girl back in the day, but I still chowed down on a roll-up when I had the chance. These are the healthy version of those snacks. They're made with real fruit and a little bit of sugar, if desired… and that's it! They're so easy to make, you're sure to be making a batch every other day after just one try.
42. Strawberry Fruit Leather
43. Peach Fruit Leather
44. Pear Fruit Leather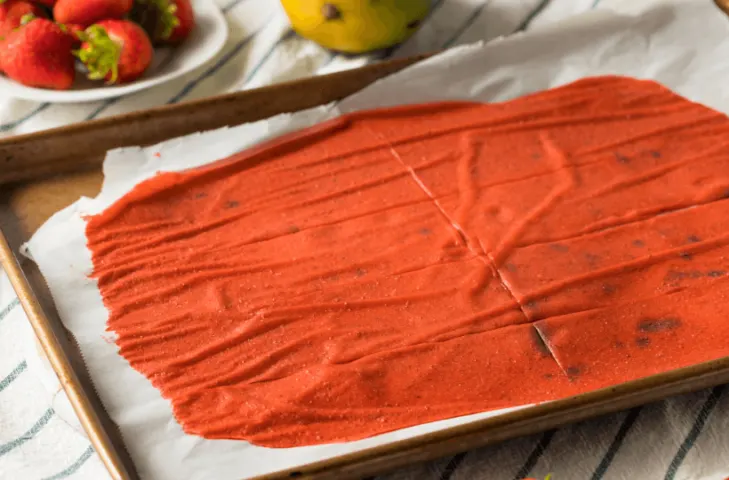 45. Blackberry Mint Lime Fruit Leather
46. Fermented Papaya Fruit Leather
47. Cherry Fruit Leather
Grains, Nuts, & Seeds
Preservation is one reason to dehydrate grains, nuts, and seeds, but did you know there are other health benefits to doing this as well? Many grains, nuts, and seeds contain enzyme inhibitors in their raw form. Enzyme inhibitors, such as phytic acid, are considered anti-nutrients to humans because they can prevent the absorption of other nutrients. Soaking grains, nuts, and seeds inactivate the enzyme inhibitors, making them easier for humans to digest. Dehydrating them after the soaking process brings them back to their crunchy, solid form!
48. Soaked and Dehydrated Oats
If you want to make granola bars or oatmeal cookies using the soaking process to reduce phytates, you have to soak and dehydrate oats. It feels almost silly to go to such trouble and still end up with oats, an ingredient. You can't even eat it yet! However – if you believe that soaking makes a difference in digestion or mineral absorption, then it's worth it. Get the recipe here.
49. Dehydrated Nuts & Seeds
Soaking and dehydrating nuts and seeds is not only easy… but yields a deliciously crispy, raw, and nutritious snack! Get the recipe here.
50. Whole Grain Crackers
Whole grain cracker is an excellent snack that is delicious and super easy to prepare with a dehydrator. Here, no soaking is required to get it done. Get the recipe here.
51. Sprouted Buckwheat Granola
Buckwheat has some amazing nutritional benefits – turn it into this granola and it makes a great substitute for boxed cereal or as a topping on yogurt. Get the recipe here.
Spices
Making your own spices is a lot easier than you may think! It usually just involves drying the herb (or root or root vegetable) and grinding it to your preferred size. After trying freshly dried spices, you'll never be able to go back to store-bought.
52. Garlic Powder
Dehydrating garlic is simple and completely straightforward. All you need to do is peel the garlic, chop it and then place it in the dehydrator. Get the recipe here.
53. Dehydrated Ginger
What can you use dehydrated ginger for? Tea, steeping with hot water, honey and lemon when you have a cold, adding flavor to broth and soups, grinding up for baking… it can even be used in detox baths! Get the recipe here.
54. Onion Powder
As with many aspects of natural living, simple is often cheaper, easier, and more healthy. Making your own garlic, onion, and chili powders (or a blend of all three) can be one of the easiest and tastiest changes you can make. Get the recipe here.
55. Dried Peppermint/Spearmint
Peppermint and spearmint are easy-to-grow herbs. They spread quickly and can add aroma to any herb garden. Peppermint and spearmint can be used in cooking, teas, cosmetics, and crafts. Get the recipe here.
56. Dehydrated Mushrooms
These Dehydrated Mushrooms are easy to make and great to have on hand to add to homemade broths and stocks for flavor! Get the recipe here.
57. Vegetable Stock Powder
This blend is 100% natural and made purely with fresh, vegetables, herbs, and good-quality salt. All you need is chopped vegetables, a food dehydrator, and a high-speed blender. With very little effort you'll be able to enjoy a super tasty, stock powder that is nutritionally far superior to anything you can buy. Get the recipe here.
58. Dehydrated Celery
Celery is an essential ingredient of soup stocks and of the mirepoix blend of celery, carrot, and onion that is the backbone of so many savory dishes. If you dry celery, you will always have it on hand for recipes. Get the recipe here.