Calling all bagel lovers! Have you ever tried making homemade bagels? The regular recipes can actually be pretty complicated. Kneading, resting, baking, and boiling is a lot to keep track of for a simple bagel.
Our homemade bagel recipe is very easy, pretty healthy, and only takes about 10 minutes of prep before going straight into the oven! With a base recipe of only 4 ingredients, and easily added flavors, this is the easiest homemade bagel recipe you'll ever make.
Ingredients For Easy Homemade Bagels
Yes, these are the famous Greek yogurt bagels making the rounds on social media. When we first saw the recipe for them, we were extremely skeptical. How can Greek yogurt be good in a bagel? We don't know why, but IT IS DELICIOUS!
These are now our favorite bagels… ever. There is no comparison to store-bought, and only a few bagel shops we've tried have made better tasting bagels than these homemade ones.
There are only four ingredients for these easy homemade bagels! They are:
– Greek yogurt
– Baking powder
– Salt
– Bread flour
Greek Yogurt
Yes, it needs to be Greek yogurt. Although we have personally not tried any other kinds of yogurts, they are apparently too sticky and don't have the right consistency.
We use Non-fat Plain Greek Yogurt from Sam's Club. The brand doesn't matter, however it does need to be plain and not vanilla or any other flavor.
Flour
Many recipes for Greek yogurt bagels call for self-rising flour. You can certainly substitute the regular flour for self-rising flour, which then eliminates the need for baking powder and salt.
We've never had or used self-rising flour. If you have salt and baking powder, don't feel the need to go out and buy self-rising flour. But, if you already have self-rising flour, more power to you!
Important note: MAKE SURE THE BAKING POWDER IS NOT EXPIRED. This recipe will not work without fresh baking powder. You've been warned – your bagels will turn out less than stellar with old baking powder.
Lastly, we use bread flour because the gluten content is higher and it makes the bagels more "bread-y." This is personal preference and not necessary. Regular all-purpose flour will work just fine, if that's what you have.
How To Make Homemade Bagels
Pay attention – this is how easy it is to make these homemade bagels. You mix all 4 ingredients in a bowl and then shape the dought into whatever sized bagels you wish. Talk about EASY!
You should brush either an egg wash or olive oil on top of each bagel before putting the toppings on, which helps them stick. An egg wash works best, however it's pretty wasteful for only one batch of the recipe. That's why we use olive oil for smaller batches, and then break out the egg wash when we know we will use it all on bigger batches.
6 Flavors For Your Homemade Bagels
Jalapeno Cheddar
After brushing oil or egg wash on bagels, place sliced fresh jalapenos on top. Press the jalapenos firmly into the dough, ensuring they will get baked into the bagels. Sprinkle shredded cheese on top of bagels and bake per the original recipe!
Blueberry
For a single recipe of bagles – coat 3/4 cups fresh, frozen, or dried blueberries (depending on what you have available and your personal preference) with 1 tablespoon white sugar. Add blueberries and sugar mixture to the unshaped bagel dough. The dough will turn purple/blue, just so you know. Shape and bake bagels per the original recipe.
Sundried Tomato and Basil
For a single recipe of bagels – chop 4-5 (or more if desired) dried or jarred sundried tomatoes into small pieces. Add chopped tomatoes, 1 teaspoon of dried basil, and 1/2 teaspoon garlic powder to the unshaped bagel dough. Shape and bake bagels per the original recipe.
Everything
Everything seasoning is all the rage recently, so why not make your own homemade everything bagels? Many grocery stores sell the pre-made seasoning in the spice section. We get our large jar from Sam's Club for about $3. We considered making our own everything seasoning, but it turned out to be cheaper just to buy it premade.
Follow the original recipe and brush the egg wash or olive oil on all shaped bagels. Sprinkle seasoning on top of each bagel and bake per the original recipe.
Sesame, Onion, Poppy Seed, Garlic, Etc…
You can use almost any seasoning to flavor your homemade bagels! The most common are sesame, onion, poppy seed, and garlic. You can choose to flavor the actual dough, or just put the seasonings on as toppings. We've tried sesame seed toppings, and haven't found a great way to make sure they actually stay on the bagel yet.
As with the everything seasoning, follow the original recipe and brush the egg wash or olive oil on your shaped bagels. Sprinkle seasoning on top of each bagel and bake per the original recipe. If you decide to flavor the dough, mix the seasonings into the dough before you shape the bagels.
If you try a new bagel flavor with this recipe that you really liked, let us know in the comments!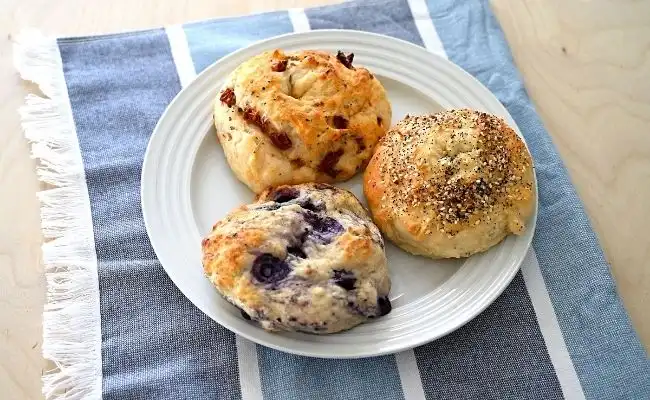 Easy Homemade Bagels
Ingredients
1

cup

Greek yogurt

non-fat

1

cup

bread flour

2

tsp

baking powder

¾

tsp

salt

2

tbsp

olive oil
Instructions
Preheat oven to 375°F. Spray a metal baking pan with nonstick oil.

Combine the flour, baking powder, and salt in a bowl and mix. Add the yogurt and mix well with a large spoon.

If adding flavoring to the dough of the bagels (sundried tomato basil, blueberry, or other) add to the dough now.

Once the dough starts to form a larger ball, dust a surface with flour and knead the dough until it is no longer sticking to your hands. Add flour as needed to achieve the right consistency.

Divide the dough into 4 equal parts. Roll into a ball and then stick finger through the middle to create the hole of a bagel.

After placing bagels on the metal pan, brush each bagel with olive oil. If adding toppings, sprinkle on bagels.

Bake bagels on the middle oven rack for 25 minutes.